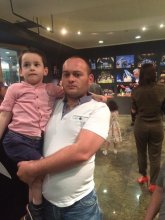 On June 6, the students of the British-Georgian Academy presented the "Disney Peter Pan" to support our benefciary Nikoloz Janelidze. 4-year-old Nikoloz needs rehabilitation after the operation of spinal cord tumor. The rehabilitation course is very important to make Nikoloz walk.
Everyone could participate in a charity campaign! For this reason they bought tickets and became participants of this spectacular show. The amount received from the sold tickets was handed over to the mother of Nikoloz, which will be used for the rehabilitation course.
And this is the letter from Nikolozi's mother:
"I would like to express my gratitude to the British-Georgian School-Academy and Dimitri Tsintsadze Foundation, because they have provided information to the school. With the amount of 3050 laris received from the concert we will provide Nikoloz with 3 rehabilitation courses, which is very important to him. With so many people's effort and love Nikoloz will walk on his feet and will thank everyone himself. I'm happy because you gave me the greatest inspiration today and I will continue to fight for Nikoloz. Thank you everybody who have participated in the help of Nikoloz."