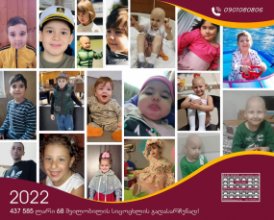 Foundation Name of Dimitri Tsintsadze - Journalists to Save Children live has been fighting for the lives of children suffering from leukemia and cancer for ten years with your support. Together we have already helped 500 children.
Medical research, treatment abroad, travel, hotel, medicines were financed for the beneficiaries. Since 2013, we have collected and distributed a total of 3,739,585 GEL.
Thank you to each of you, for every GEL donated, thank you on behalf of our affiliates, their families, members of the foundation. These 10 years, we did not stop and we continue to fight for life, hoping for your support, because their fate is in your hands, despite the significant support of Ministry of Health, municipalities, various funds, there is a large part of expenses that families find extremely difficult, it is these types of expenses that are reimbursed by the Dimitri Tsintsadze Foundation . We purchase medicines from abroad, finance travel and hotel, rehabilitation and research, often underfunded treatment costs.
thank you
Thank you for your support, thank you for your trust, we will do many more together
We will save lives!
Donation is possible here on our website, search for donation
button, perform an operation with a plastic card, help
Even for children suffering from cancer and leukemia with 1 GEL.
Call 0901080806 or deposit the amount:
Bank of Georgia
BAGAGE22
account Number: GE62BG0000000996577500
TBC Bank:
TBCBGE22
account Number: GE98TB7517536080100003
Receiver: Dimitri Tsintsadze Foundation